River Farm Field Session!
Join the Lost Towns Project June 28, 29, 30, and July 1 for our 2017 River Farm Season: Archaeological Field Session at a Prehistoric Village Site. 
During the spring and summer of 2016, Anne Arundel County partnered with the State of Maryland, the Archaeological Society of Maryland and the Lost Towns Project to investigate a Native American Village Site called River Farm, located at Jug Bay Wetlands Sanctuary. Over the course of 15 days, over 100 people, most of them volunteers, excavated 36 test units, found 18 features, and recovered thousands of artifacts that span at least 10,000 years of human history on the shores of the Patuxent River.
Now, Lost Towns is head back to River Farm! Join the Lost Towns Project for this real-world archaeological dig, where you will work alongside professional archaeologists and help us discover the mystery of this rare prehistoric house site right here in Anne Arundel County, MD. No experience required, and we'll give you "On the Job Training". For more information, click here.
Reservations are required for this special program, and the max number of participants each day is capped at 12 to ensure the quality of the scientific work. Daily cost for this program is $20 per person. Sign on for all four days for the discounted program fee of $55 for the entire session. Click here to reserve your spot!
Thursday Nights Archaeology Lab!
Join Lost Towns Project on Thursday nights through May to process artifacts from Skipworth's Addition, a 17th century Quaker home site in Harwood. Lab nights will resume in July; check back for more details.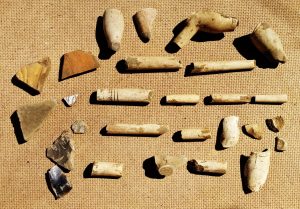 ---
We'd like to take this opportunity to say thanks to the funders and supporters who have made our work possible this past year!