Skipwith's Addition Field Session!
Join the Lost Towns Project August 16, 17, 18, and 19 for our 2017 Skipwith's Addition Archaeological Field Session documenting a 17th century residence (1664-1682).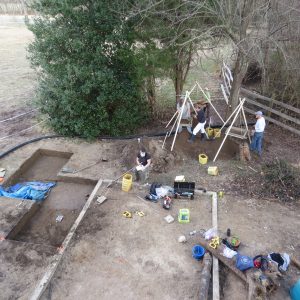 Originally studied in the early 1990s, renewed investigation of the Skipwith property began in December 2016. Excavations have uncovered an earthfast building yielding artifacts that provide information about the lives of George and Elizabeth Skipwith, well-to-do 17th century Quakers in Anne Arundel County, MD.
Now, Lost Towns is head back to Skipwith's Addition! Join the Lost Towns Project for this real-world archaeological dig, where you will work alongside professional archaeologists and help us document the footprint of the 17th century house and associated structures to reveal more about this early, short-lived habitation site and the Quakers who lived there. No prior archaeological experience required; we'll give you "On the Job Training". For more information, click here.
Reservations are required for this special program, and the max number of participants each day is capped at 12 to ensure the quality of the scientific work. Daily cost for this program is $20 per person. Sign on for all four days for the discounted program fee of $55 for the entire session. Click here to reserve your spot!
Volunteer Appreciation Party!
At the conclusion of the Skipwith's Addition Field Session on Saturday August 19th, join the Lost Towns Project for a Volunteer Appreciation Party from 3-7pm at the site. The party will be a potluck, click here to reserve your spot!
Thursday Nights Archaeology Lab!
Join Lost Towns Project on Thursday nights through May to process artifacts from Skipworth's Addition, a 17th century Quaker home site in Harwood. Lab nights will resume in July; check back for more details.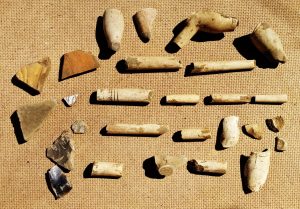 Donate to Support the Lost Towns Project!
Follow this Link to our Donations Page
:
---
We'd like to take this opportunity to say thanks to the funders and supporters who have made our work possible this past year!