The Lost Towns Project name has been used loosely over the past 25 years to refer to a collection of scholars who have worked in partnership with Anne Arundel County, the Anne Arundel County Trust for Preservation and various other history and heritage organizations in the region. Early research revolved around the discovery and investigation of colonial towns in Anne Arundel County, including Providence (1649), Londontown (1684), and Herrington (1664), hence the name "Lost Towns." After finding those towns, the projects research foundation expanded to cover all periods of history and broader range of archaeological and historic resources. The organization was formally established as a 501-c3 recognized non-profit in July of 2014.
Our mission is to promote, facilitate, and enable the preservation, discovery, academic study, appreciation, and stewardship of public and privately-owned cultural resources, historic structures, and archaeological sites in Anne Arundel County, the State of Maryland and the Mid-Atlantic region by supporting the technical, scholarly, and intellectual work of academics, professionals, and students, in activities related to the mission.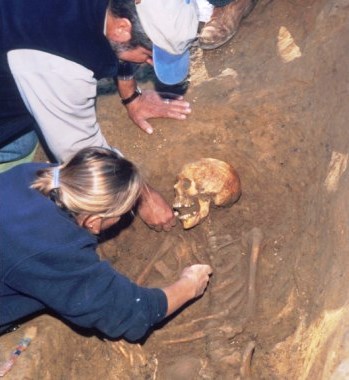 Dozens of professional scholars have participated in research projects under the Lost Towns Project rubric over the years, and it is a recognized leader in archaeological investigations and public outreach and education in Maryland. Formalizing the organization as a stand-alone 501-C3 was in recognition of the value such academic and professional collaboration provides for expanding the understanding and appreciation of Mid-Atlantic archaeology and history.
The non-profit is administered by a volunteer three-person Executive Board, which includes Sherri Marsh Johns, C. Jane Cox and Janis Markusic. The organizational structure provides for an advisory committee consisting of up to 15 advisors with professional and avocational interests in furthering historic and archaeological research in the Mid Atlantic. A range of professional experts and passionate avocationalists have been formally accepted by a vote of the Executive Board (as per the by-laws) onto the advisory board of the organization.
The Lost Towns Project Advisory Board includes;
Rosemarie Collage (Public Outreach and Administration)
Luc Renaux (Junior Member and Educational Outreach)
Gwendolyn Gibson (Environmental and Natural History)
Ron Katz, Esq. (Legal Counsel)
Christopher Sperling (Archaeology)
Lauren Schiszik (Historic Preservation)
Heather Ersts (Museums and Heritage Tourism)
Tom O'Connor (Public Outreach and Volunteer Advisor)