2017 EXCAVATION at SKIPWITH'S ADDITION:
Archaeological Field Session at a 17th century residence
August 16, 17, 18, and 19, 2017 (9a-3p daily)
OPEN TO THE GENERAL PUBLIC!!!!

Join archaeologists from Anne Arundel County and the Lost Towns Project to investigate "Skipwith's Addition", a 17th century residence (1664-1682). Originally studied in the early 1990s, renewed investigation of the property began in December 2016. Excavations have uncovered an earthfast building yielding artifacts that provide information about the lives of George and Elizabeth Skipwith, well-to-do Quakers in Anne Arundel County, MD.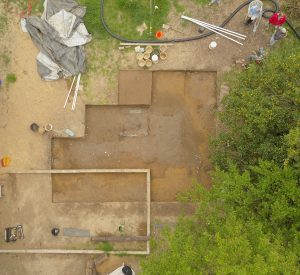 Now we're headed back, and we need your help to discover more!
Join the Lost Towns Project for this real-world archaeological dig, where you will work alongside professional archaeologists and help us document the footprint of the 17th century house and associated structures to reveal more about this early, short-lived habitation site and the Quakers who lived there.
No archaeological experience required; we'll give you "On the Job Training"!
---
Reservations are required for this special program, and the max number of participants each day is capped at 12 to ensure the quality of the scientific work. Daily cost for this program is $20 per person. Sign on for all four days for the discounted program fee of $55 for the entire session.
Also, join the Lost Towns Project for a potluck Volunteer Appreciation Party on Saturday, August 19th from 3-7pm at the site.
---
Participants must be at least 12 years old.
Children under the age of 16 must be accompanied by a parent or guardian.
If you or your child has a physical or mental condition that would limit his or her participation in our program and you believe we can accommodate the needs of your child, please contact us at projects@losttownsproject.org to request special accommodations.
By registering yourself or your children for this event, you indicate that you agree to release and discharge Anne Arundel County, the Lost Towns Project, Inc. its employees, and agents from any injuries sustained by your child or yourself as a result of participation in this program. You will agree to indemnify and hold harmless Anne Arundel County, the Lost Towns Project, its employees, and agents against any liability incurred as a result of such injury or loss. It is understood and agreed that Anne Arundel County, the Lost Towns Project, its employees, and agents cannot be responsible for any aggravation or injury caused as a result of a pre-existing disability, including but not limited to allergies. You must notify us of any such disabilities or sensitivities in writing prior to enrolling in this program.
*Participant may at some time be photographed for use by Anne Arundel County for publicity purposes.