The Lost Towns Project is a non-profit organization located in Anne Arundel County, MD,  that is dedicated to raising public awareness of the rich historic and cultural resources in the Mid-Atlantic area. From archaeology to architectural history to cultural landscapes, the organization actively promotes the preservation of these resources by facilitating research that enables experts in the field to make new discoveries about the history and prehistory of the Chesapeake region.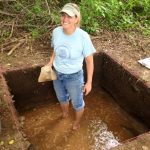 Stephanie Sperling, M.A.A., is the Archaeological Research Director for Anne Arundel County's Cultural Resources Division, in partnership with the Lost Towns Project. Click here to read more about Stephanie…
---
The Lost Towns Project is currently sponsoring or providing support to the following projects.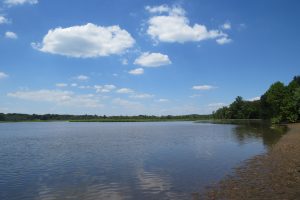 River Farm and the Pig Point Complex Archaeologists spent the summers of 2015 and 2016 digging at the River Farm site, located one mile away from Pig Point on the Jug Bay portion of the Patuxent River. Both field seasons were sponsored by federal Hurricane Sandy Disaster Relief Fund grants and focused on the floodplain, where thousands of years of history is threatened by sea level rise and coastal erosion. During the excavations, the team uncovered dozens of features dating to the Woodland time period, from about 1000 B.C. through A.D. 1600, along with a small Colonial component that might mark the location of enslaved workers. This stretch of the Patuxent River has long been known as a hotbed of ancient Native American activity, and dozens of sites have been found in the area, some dating back over 10,000 years. Pig Point was apparently a ritual center for millennia and River Farm may have been a related camp site. Several more sites around Jug Bay are currently being investigated and plans are in the works to head back during the summer of 2017.
Excavations at Skipworth's Addition  in Harwood, Maryland provide a tantalizing view of the material culture left by the well-to-do Quaker family. George and Elizabeth Thurston Skipworth lived at Skipworth's Addition from 1664 until 1682. This domestic colonial site is intact and retains integrity, promising to yield significant information related to the earliest European settlement of the West River watershed. Excavations are continuing weekly throughout the spring, so reach out to the Lost Towns Project using the email below if you want to participate.
This Spring– Thursday Evening Lab Hours at the Anne Arundel County Archaeology Lab in Edgewater dedicated to processing Skipworth's Addition.
To sign up as a volunteer on any of these projects, drop us a line at volunteers@losttownsproject.org.